New York State Outdoorsmen Hall of Fame Holiday 2021 Newsletter
Best Wishes this Holiday Season
With the Holiday Season upon us and the year coming to a close, the Officers and Directors of the New York State Outdoorsmen Hall of Fame would like to wish you a Merry Christmas and a Happy New Year!
New Officers and Board of Directors for 2022
At a general membership meeting on Wednesday, October 20, 2021, through a ZOOM Virtual Meeting an election was held for the 2022 Officers and Board of the NYSOHOF. Here are the results of the voting:

Bill Lansley President
Dave Corr Vice-President
Chuck Godfrey 2nd Vice-President
Stephen Wowelko Secretary
Scott Faulkner Treasurer
Directors:
Joe Fisher expires in 2022
Bill Wilbur expires in 2022
Mark Hettler – Director for two years – expires in 2023
Zen Olow. – Director for two years expires in 2023
Nomination's deadline January 31, 2022
We are currently in the process of receiving nominations for the new class of inductees for 2022 and for our Special Awards. The deadline for submissions is January 31, 2022. Nomination instructions can be found on our website http://nysohof.org .
Before you submit a nomination, you need to contact the Hall of Fame first to obtain the revised nomination cover form along with instructions on what is to be included with the nomination.
Please email sfcf@tds.net or nysohof@gmail.com to request the nomination form.
Please be sure to include mandatory supporting documentation and letters of support with your nomination. Incomplete nominations may not be considered.
Here are the categories of nominations for active outdoorsmen:
1. Outdoor Volunteer – Men and women who have given many years of volunteer service and accomplished significant things to help others, especially future generations, enjoy the outdoors. These volunteers have truly given back more than they have taken.
2. Outdoor Professional/Volunteer – is reserved for those who use their professional talents to support the causes of conservation and outdoor sports. These individuals go above and beyond their regular job duties to "give back", so that others can benefit. Many also volunteer in addition to giving back through their professional careers. This category also includes outdoor writers and authors.
In addition we have established the Pioneer Category
Since its creation, the New York State Outdoorsmen Hall of Fame has been inducting individuals who worked tirelessly to preserve our outdoor heritage. The Pioneer category was established to honor these earlier sportsmen and women who did so much for sportsmen's issues all across New York State. Many of these sportsmen and women are now deceased.
Special Awards
The New York State Outdoorsmen Hall of Fame has also established the following Special Awards:
Educational Program Award:
Designed for youth or youth programs, related to conservation programs.
Media Award:
The Media Award is used as recognition in special cases where a writer/author did something really special, beyond their regular duties.
Outdoors-person of the Year:
This award is presented to an individual or organization that has made a significant impact on conservation or outdoor sports. This may have been a specific project or several actions that have enhanced hunting or fishing or helped preserve our natural environment for future generations. These actions have typically been performed over a shorter period of time than the efforts of an inductee to the Hall of Fame.
Dave Pierce Memorial Award:
The Dave Pierce Memorial Award is given to someone who has done outstanding work with youth.
Extra Mile Award:
Conservation and Law Enforcement Professionals do an important job in protecting the state's resources ranging from fish and wildlife to the health of the environment. They regularly enforce the laws protecting fish and wildlife, monitor pollution, and much more. At times they even put their lives on the line. The Law Enforcement Professionals serve as symbols of our natural resources and help educate the public on proper behavior.
Yet even with all of these responsibilities many of them go beyond the call of duty to help educate the public or create a new generation of ethical sportsmen and stewards of our natural resources. This "extra mile" that they often go can take many forms. They regularly make appearances at youth groups, speak at various meetings, act as mentors to youth hunts, fund many events, and help organize events to introduce people to outdoor sports.
Annual Banquet 2020-2021
On October 23, 2021, we held our Annual Induction Banquet. After having to reschedule the 2020 banquet several times before finally having to cancel it, we were able to have a very successful banquet with over 100 family members, friends and guests attending to show support to the new inductees and award winners.


New York State Outdoorsmen Hall of Fame – Class of 2020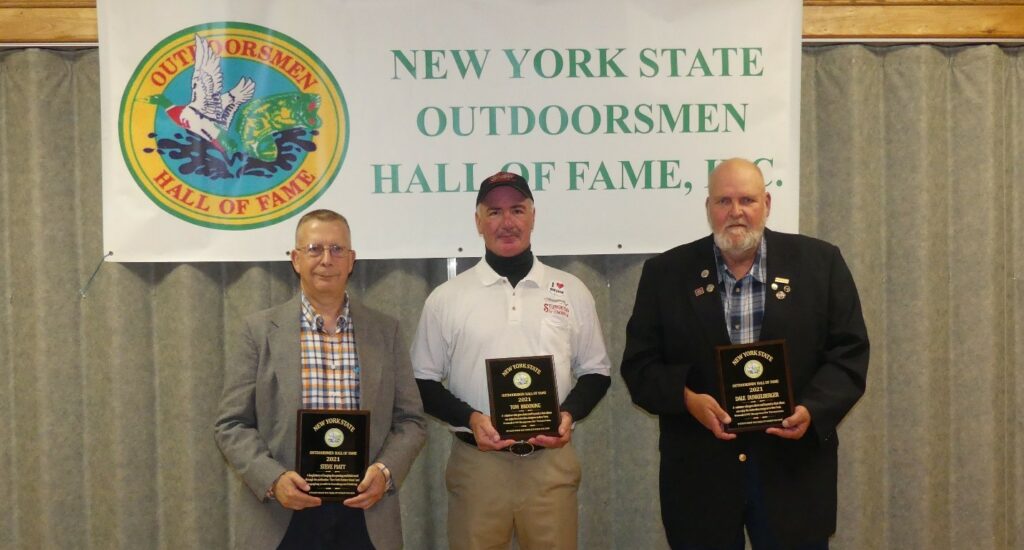 New York State Outdoorsmen Hall of Fame – Class of 2021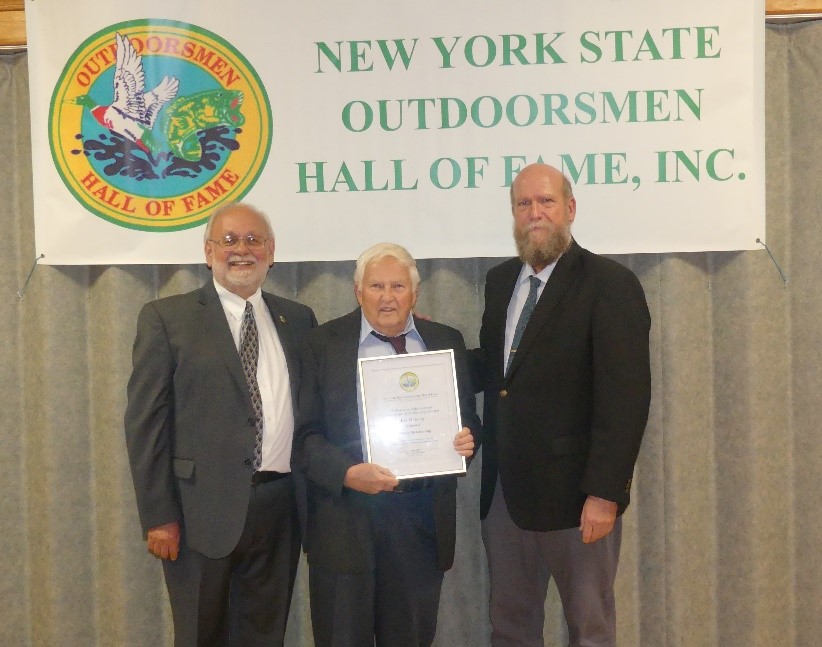 Leo Maloney Awarded Lifetime Membership
Leo Maloney was recognized for his long term commitment to the New York State Outdoorsmen Hall of Fame with a lifetime membership. "By Executive Order and with Concurrence of the Board of Directors, Leo Maloney, is granted Lifetime Membership for his devoted commitment to the New York State Outdoorsmen Hall of Fame."  Past President Stephen Wowelko and current President Bill Lansley presented Leo with the award.
Congressional Recognition of 2020 and 2021 Inductees
United States Congresswoman Claudia Tenney took it upon herself to issue a Congressional Recognition to each of the 2020 and 2021 inductees and award winners. The certificates were presented to the inductees at the banquet when they received their plaques. Congresswoman Claudia Tenney is a member of our New York State Outdoorsmen Hall of Fame Association. We thank her for her participation and support.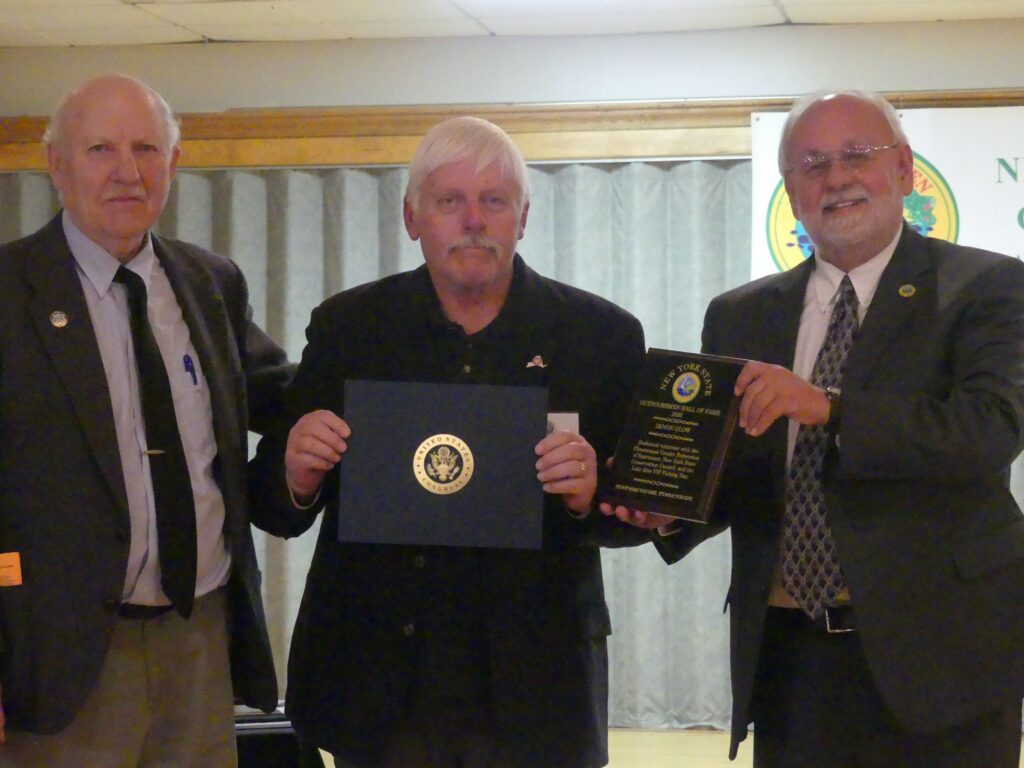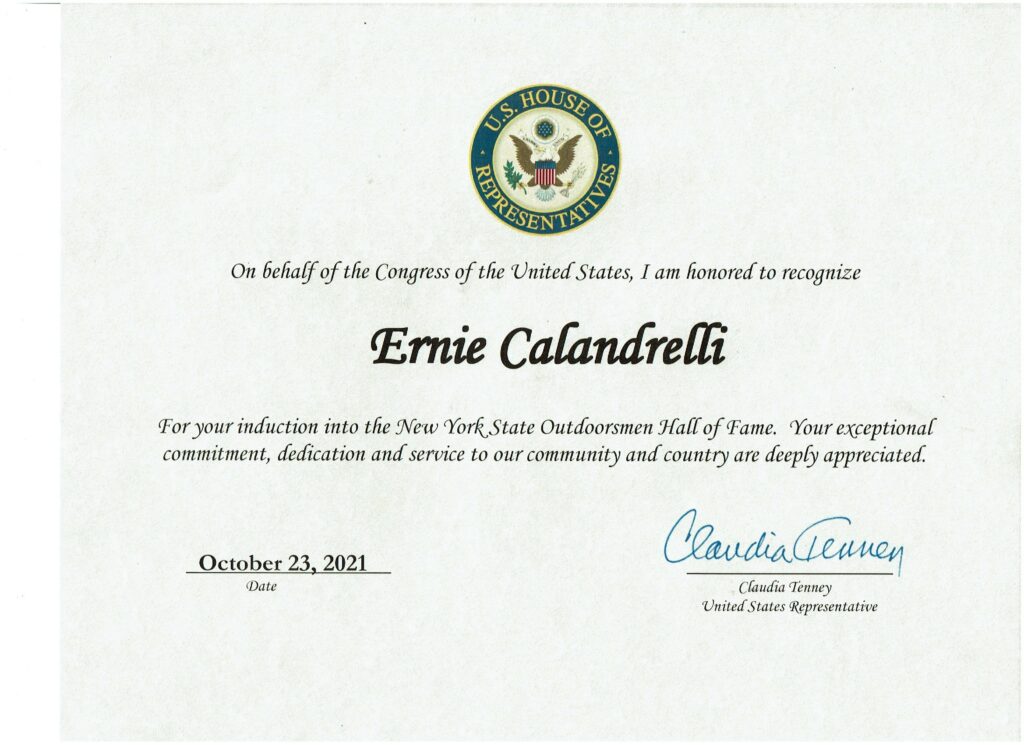 Annual Raffle
Donations – Can You Help?
The NYSOHOF drew the winners of the 2021 Annual Raffle at the Induction Banquet on October 23, 2021. The winners who were not present at the banquet have all been notified.
2021 BENEFIT DRAWING FOR THE
NYS OUTDOORSMEN HALL OF FAME – Winners
1st Prize: Wayne-O's Guide Service Drift Boat Charter on Salmon River
William Conners
2nd Prize: Capt. Burnie Haney – Full Day Lake Ontario Charter
Jack Prendergast
3rd Prize: Capt. Mike Cusano – Half Day Oneida Lake Charter
Steve Piatt
4th Prize: $250 CNY Gunworks Gun Refinish Certificate
Ted Collins
5th Prize: $100 Taxidermy Certificate – Hirsch Taxidermy, N. Syracuse, NY
Norman Webber III
6th Prize: $100 Deer Processing Certificate – Marsh Mill Ranch
Brian Dam
7th Prize: 120 Hand Tied Flies and Cortland Fly Rod and Reel Outfit
Thomas Lenweaver
8th Prize: Tom Lenweaver Wildlife Print
Kevis Collins
9th Prize: Pflueger Spinning Rod and Reel in a travel case
William Wilbur
10th Prize: Moose Wildlife Print donated by Gary Lee
Cynthia Faulkner
The NYSOHOF is looking for donations and prizes to help us raise money to keep the association financially sound. We are looking for anything we can use as a prize for our 2022 Annual Drawing. Donations can include gift certificates, fishing charters, hunting outings, prints, paintings, outdoor equipment or fishing tackle. Any donations we receive will be recognized at our annual induction banquet. In the past few years we have had some very generous members offer great prizes. We can't keep the association going without help from our members. Please let us know as soon as possible if you are able to make a donation so that we can organize our only fundraising raffle and print the tickets by the end of the year.
2022 Membership Dues
Just a friendly reminder, a membership notice for 2022 dues will be sent out early next year. Membership dues are essential to continuation of the Hall of Fame. Membership dues are only $20 annually. Please look for the notice in your mail.
New York State Outdoorsmen Hall of Fame Website
For more information about our association, please visit our website: http://nysohof.org
Mailing address for the NYSOHOF
New York State Outdoorsmen Hall of Fame
PO Box 94
Marcy, NY 13403-9988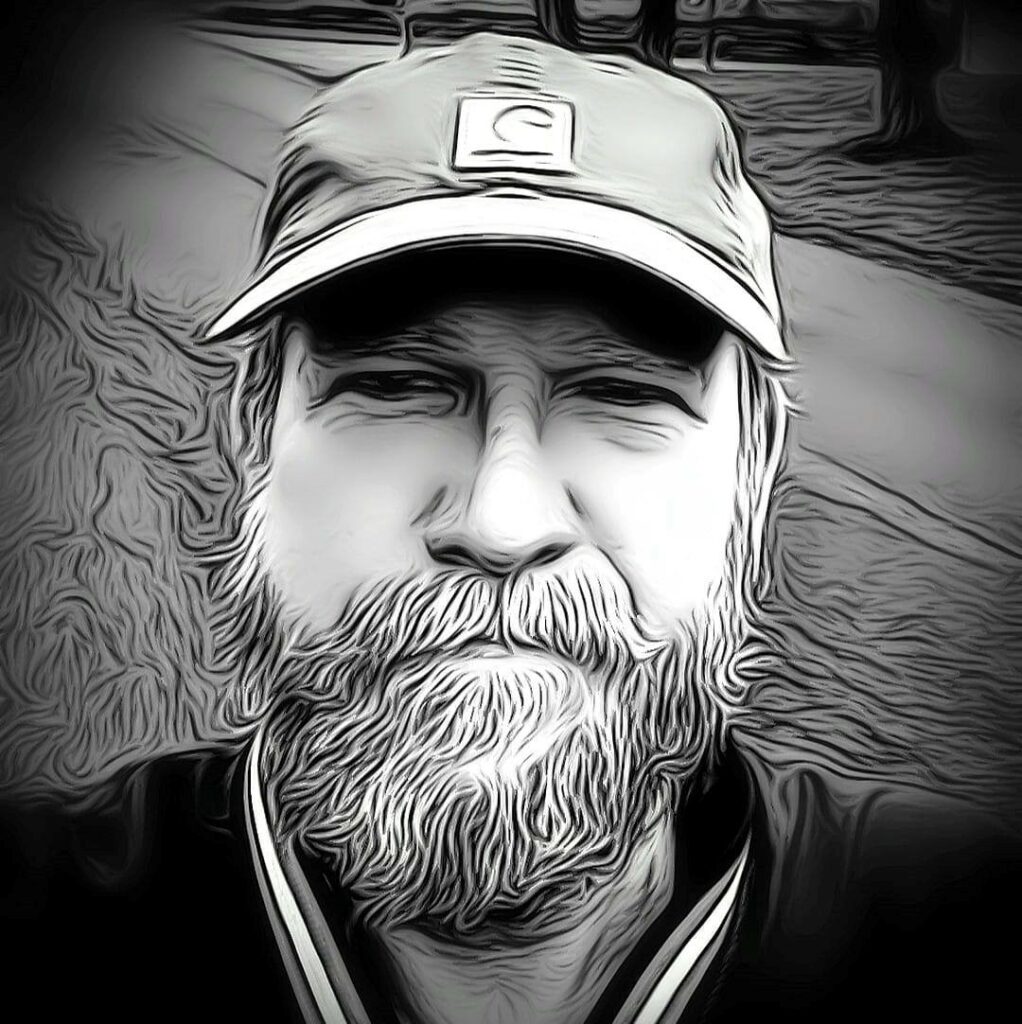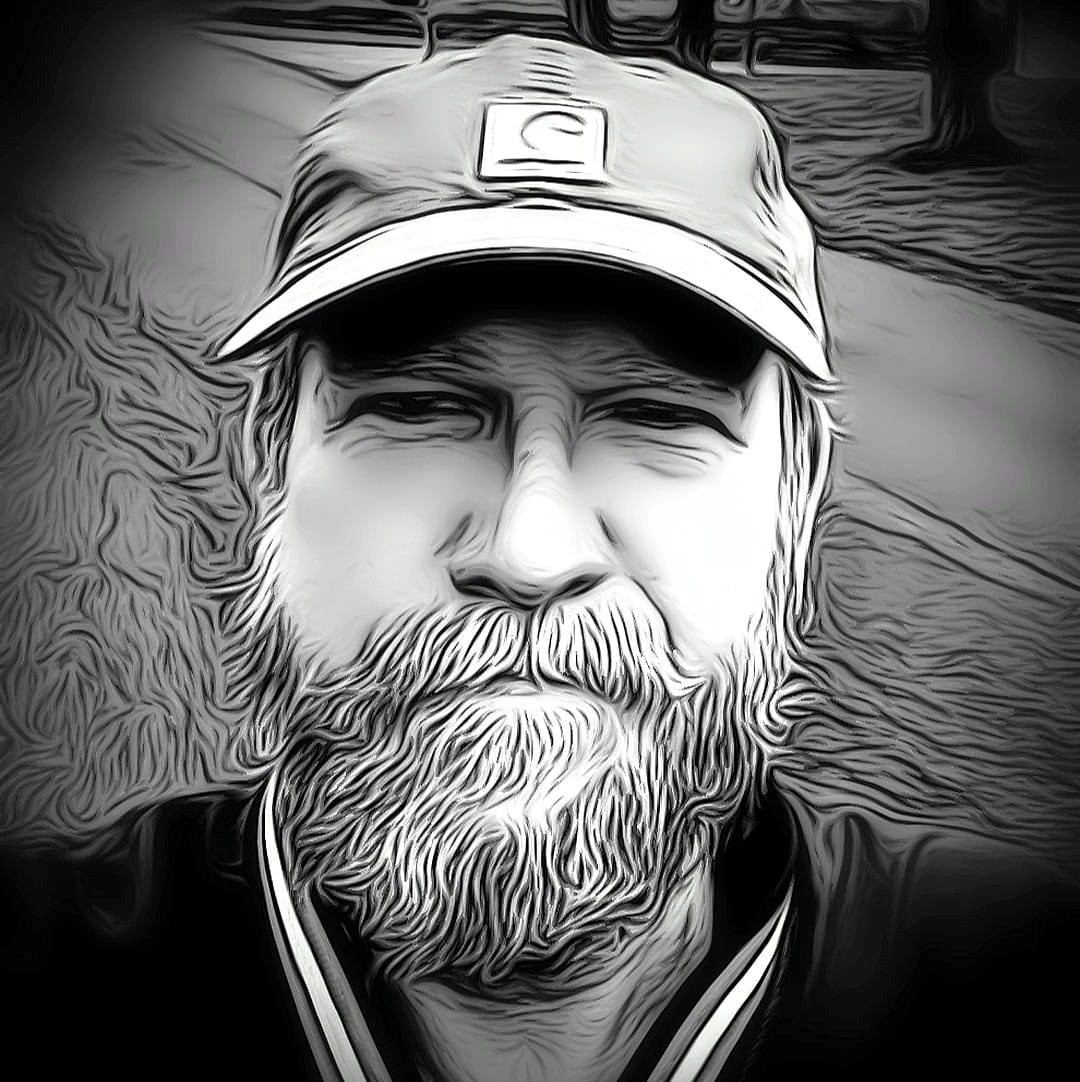 Note from the President
The holiday season is here! With it comes a great opportunity for each and every one of us to honor someone from our club, organization or association with a nomination into the Hall of Fame. We all know that person who has dedicated a great part of their life making sure our outdoor sporting world continues to be an asset to be enjoyed by us today and for our future generations.

Please consider a nomination for those most deserving friends. We all know several.

Thank you for your continuing support to the hall and our mission, and I wish you and your family a wonderful holiday season!

-Bill