New York State Outdoorsmen Hall of Fame Spring 2023 Newsletter

New York State Outdoorsmen Hall of Fame Honors Twelve New Inductees
The New York State Outdoorsmen Hall of Fame announces that it will induct 12 new members at its annual banquet, May 21, 2023. These represent a wide variety of interests and accomplishments and include people from many areas of New York State. We will also recognize 2 Special Award recipients.
Tom Bryant – St. Lawrence County
Tom's most noted volunteerism is working with Wood Duck Nesting Boxes. Over the past 20+ years Tom has built/bought and installed/maintained over 1,000 of these nesting boxes. From 1991 to 2001 he served on the Board of Directors of the CNY Wildfowlers and was chairman of the Wood Duck nest box project. Tom still continues to buy these nesting boxes and install them. He obtains permits from the DEC under the Volunteer Stewardship Agreement to install and maintain these nesting boxes on Wildlife Management Areas. He volunteers for fundraising and takes veterans on hunts through the Wounded Warriors In Action and the Salmon River Strutters Chapter of the National Turkey Federation – Wheelin' Sportsmen Wounded Veteran Hunt and Fishing with Fort Drum Soldiers.
Tom Fischer – Erie County
For more than 20 Years, Tom has volunteered for the Erie County Federation of Sportsmen's Clubs "Teach Me To Fish" clinics. With the capacity for hundreds of participants, Tom maintains every piece of equipment, ensuring every attendee has a positive experience at the events. He has recruited other members to assist in this work. Tom is a director, Sgt. at Arms, Co-Chair of the Teach me to Fish committee, Co-Chairs the Crossbow committee and is a member of the banquet committee for the Erie County Federation and Treasurer for the Lake Shore Sportsmen's Club. For the last 9 years Tom has been a Hunter Education Instructor, teaching 8 to 10 classes per year.
Robert Flavin – St. Lawrence County
Bob has created, and operates a walleye re-population program serving the Saint Lawrence Seaway and Oswegatchie River, where shipping and water flow interruptions resulted in lower walleye populations. The program, nearly 40 years old now, captures walleye for fry and fingerling development and restocking them into these waterways. Bob and his volunteers hold annual walleye tournaments as a fundraising resource to sustain the program and ensure its success.
Ricardo Grisolini – Madison County
For many years he has been a key figure in an annual spring Youth and Women's Turkey Hunt and fall Youth and Women's Waterfowl Hunt. These are sponsored and supported by the County Federation of Sportsmen/women of Oneida and Madison County. He is involved in the recruitment and supervising of volunteer mentors, participant selection and instruction, securing locations for participants to hunt; obtaining, storing, and securing the "gear"/material needed to hold the hunts. Rick is also an integral part in the creation of the annual Oneida/Madison County youth turkey and waterfowl hunts, which is hosted by the Cassety Hollow Rod & Gun Club in Oriskany Falls, NY. For over 10 years, these hunts have been putting smiles on the faces of hundreds of youth hunters, giving them a taste of what it's like to be a true sportsman.
Don Hahn – Oneida County
For over 40 years, Don has been an active member of the Wyndott Fish and Game Club and the Oneida County Federation of Sportsmen's Clubs, serving in many positions including President, Vice President, and committee member. As part of the Oneida County Annual Conservation education days, serving 6th graders from the county, Don has presented educational experiences and other duties to the program. He has also worked on the annual Sauquoit Creek cleanup, numerous fishing derbies and clinics as well as casting clinics for kids at the Big East Sports Show annually at the Turning Stone Events Center.
Larry Jones – Erie County
When muskies in the Niagara River were in trouble for a host of reasons in the early 1990s. Larry started the Niagara Musky Association in 1993. This club became an integral part of the Strawberry Island restoration effort which is now under consideration to be declared a National Park. This group worked with the NYSDEC and its growing member numbers to develop a new minimum Great Lakes Musky size limit of 54-inches. This allowed the species to be reconsidered by musky anglers as a catch and release fish, a fish to be preserved because it was endangered. Larry also raised funds to maintain and grow muskies on Chautauqua Lake at the Prendergast Point Hatchery.
Brian Krawczyk – Wyoming County
Brian was instrumental in reviving a youth fishing day by expanding the program to include stations for not only fishing, but duck hunting, dog retrieval, deer tracking, trapping, turkey hunting, archery and trap shooting among others. He has served his local Federation in key positions since 2011. Brian also is a Master Hunter Education Instructor, and has mentored many disabled archery hunters.
Earl 'Butch' Kortright – Sullivan County
For nearly 20 years, Butch had been a tireless volunteer for the youth of Sullivan County, serving the National Wild Turkey Federation and serving its youth through the "Juniors Acquiring Knowledge Ethics and Sportsmanship' program. He represents this organization on the local and state levels. He is the driving force behind the program's annual JAKES event instructing more than 200 area youth annually with a program impact of over 4000 participants. Butch also works with Disabled Veterans, local schools and Boy Scouts with programs from local hunts to providing birdhouse kits.
Chad Norton – Onondaga County
Chad's life is dedicated to volunteerism. Since age 7 he has volunteered at Webster Pond, a City of Syracuse Park property. Since 2014 he has held high level positions for the Angler's Association of Onondaga, which oversees the operation of the facility, from programming to financial sustainability through grant writing and fundraising. With many challenges, Chad volunteers daily. He is President of Friends of Wildlife at Webster Pond and Vice President of the Angler's Association of Onondaga.
Eugene "Gene" Pauszek (Posthumous) – Chautauqua County
Gene was a life member of the Chautauqua Conservation Club and served as an officer for many years. Through this club he began the "Take-A-Kid" Fishing program sharing his enthusiasm for fishing and Lake Erie. He wanted younger generations to enjoy the outdoors experience and the challenge of catching the big ones. He also was a strong supporter and active participant with Ducks Unlimited and Save the Wetlands organizations, the WNY Environmental Federation, Chautauqua Sportsmen's Federation, Dunkirk Harbor Commission and Chautauqua Fish Advisory Board among many others. Gene was an outdoor writer by trade, relaying his experiences and covering a tremendous amount of outdoor sporting activities in "The Evening Observer".
Laurie Rankin – Delaware County
Following in her retired Dad's footsteps all the way to the top of the Catskill Mountain Fire Lookout Towers, Laurie was named as Director of the NYS Chapter of the Forest Fire Lookout Association in 2014. She published the first newsletter in March of 2015 which is now a monthly publication where volunteers and supporters for preserving the Fire Towers are informed of what projects need help and backing from the public to keep them open. Laurie coordinates many volunteers and groups maintain the Watch Towers and lighting projects to assure they remain accessible. Her work organizing trail work and work on the towers has made it possible in the last few years to open several of these abandoned fire towers and get them open to the public. Laurie also reports the forest fires that occur across the state, issuing warnings when areas are dry and outdoor fires prohibited during the spring season.
Col. LeRoy W. Short, USAF – (Oneida County) Pioneer Category
Among Col. Shorts' many accomplishments, is he was a founding member of the Oneida Rifle Club, which was formed in 1934 and received its charter from the NRA in 1936. The Oneida Rifle Club continues Col. Short's legacy of introducing a wide variety of firearms sports to young adults, leading them to a life-long love and commitment to hunting and shooting. LeRoy was also instrumental in the development of the curriculum and the subsequent legislation that was passed by NYS in 1950 to establish the NYS Hunter Safety Training program. He personally led 2,644 young hunters through the NYS Hunter Safety Course. For more than 50 years he was chief instructor of the NRA Junior Rifle Program at the Oneida Rifle Club. In recognition of his service to the Oneida Rifle Club, the Board of Directors recently voted to dedicate the indoor range at the club to Col. LeRoy Short for his lifetime of volunteerism to his club and community.
SPECIAL AWARDS
Jack N. Gramlich – (Onondaga County) Educational Program Award
Gramlich is an educator, former nature center director and a member of the Central New York Land Trust. Jack is passionate about preserving the environment and educating others about it. He specializes in educating thousands of youths in Onondaga County on the environment and its conservation. He works with many central New York schools annually teaching hundreds of kids about fishing, most of which are the students very first time engaging in this activity.
Steve Lakeman – (Oneida County) Dave Pierce Memorial Award
Thirteen years ago, Region 6 Environmental Conservation Officer (ECO) Steve Lakeman approached the Federated Sportsmen Clubs of Oneida County Inc. about having a Goose Hunt in Oneida County. He has participated in them annually since then. Included in the hunt, students are given a safety course, firearms patterning and general goose hunting instruction. More than 200 students have participated, many whom return to assist and participate with the program.
2023 Induction Banquet – Make Your Reservation Early
Every year the NYSOHOF holds an induction banquet to formally announce and celebrate new inductees to the Hall of Fame. This year, the banquet will be held on Sunday, May 21, 2023 at Theodore's Restaurant, 3231 Seneca Turnpike (Rt. 5) in Canastota. Inductees will be presented with an induction plaque. The dinner is open to the public, family, friends and members of the NYSOHOF are invited to join in this evening of celebration.
Registration will begin at 3:00 pm, with dinner at 4:00 pm, followed by the presentations. Reservations must be made by May 10, 2023 by contacting either:
Scott Faulkner email: sfcf@tds.net or by phone: (315) 829-3588
Mark Hettler email: Mhettler103@gmail.com or by phone: (315) 451-1996
There will be a very limited number of registrations available at the door, and some without reservations may be turned away. The cost of the dinner is $25 per person.
2023 Dues
Just a friendly reminder, if you have not already done so, please send in your membership dues for 2023. Membership dues are essential to continuation of the Hall of Fame. A copy of the membership dues form, along with a preaddressed envelope are included in this mailing. Donation for membership dues is only $20 annually.
Annual Raffle
Just a reminder, if you have not turned in your donation for our annual raffle, feel free to send your check along with your membership dues in the enclosed envelope.
The value of this year's raffle prizes are well over $5000.
Grand Prize: 2 person African 5 day Safari – Meals, Lodging, $500 trophy fees included, OR $100 Sport Shop Gift Certificate
1st Prize: Capt. Burnie Haney – Full Day Lake Ontario Charter
2nd Prize: 10 Pheasant Hunt w/dog – F&B Upland Birds, Hamlin NY
3rd Prize: Full Tank Charters 2 person, half day walleye on Oneida Lake
4th Prize: Mostly Muskie's Charters – Full Day on Chautauqua Lake
5th Prize: Capt. Mike Cusano – Half Day Oneida Lake Charter
6th Prize: 10 pheasant hunt- Cambria Game Farm, Cambria, NY
7th Prize: $250 CNY Gunworks Gun Refinish Certificate
8th Prize: 120 Hand Tied Flies and Rod Combo Outfit
9th Prize: original artwork hand painted by wildlife artist Debbie Brosen
With your support, we can continue to promote those who have "given back more than they have taken" in preserving our outdoor sports and conserving our environment for future generations. Proceeds from this raffle also help reduce the price of the dinner at the annual induction banquet.
This year the winning tickets will be drawn at the annual banquet on May 21, 2023.
Your support is appreciated. Please contact us if you need more tickets.
Leo Maloney receives Silver Service Reward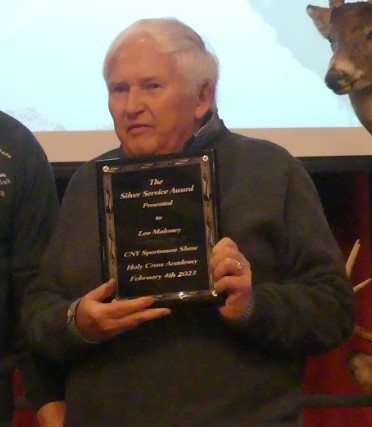 NYSOHOF past president and current advisor to the board of directors, Leo Maloney received the Silver Service Award at the CNY Sportsman Show in Oneida NY. Leo was recognized for making a positive difference in outdoor sports by giving back to the sporting community.
Leo has provided information and entertainment to sportsmen as an outdoor writer for 45 years.
Note from the President – Bill Lansley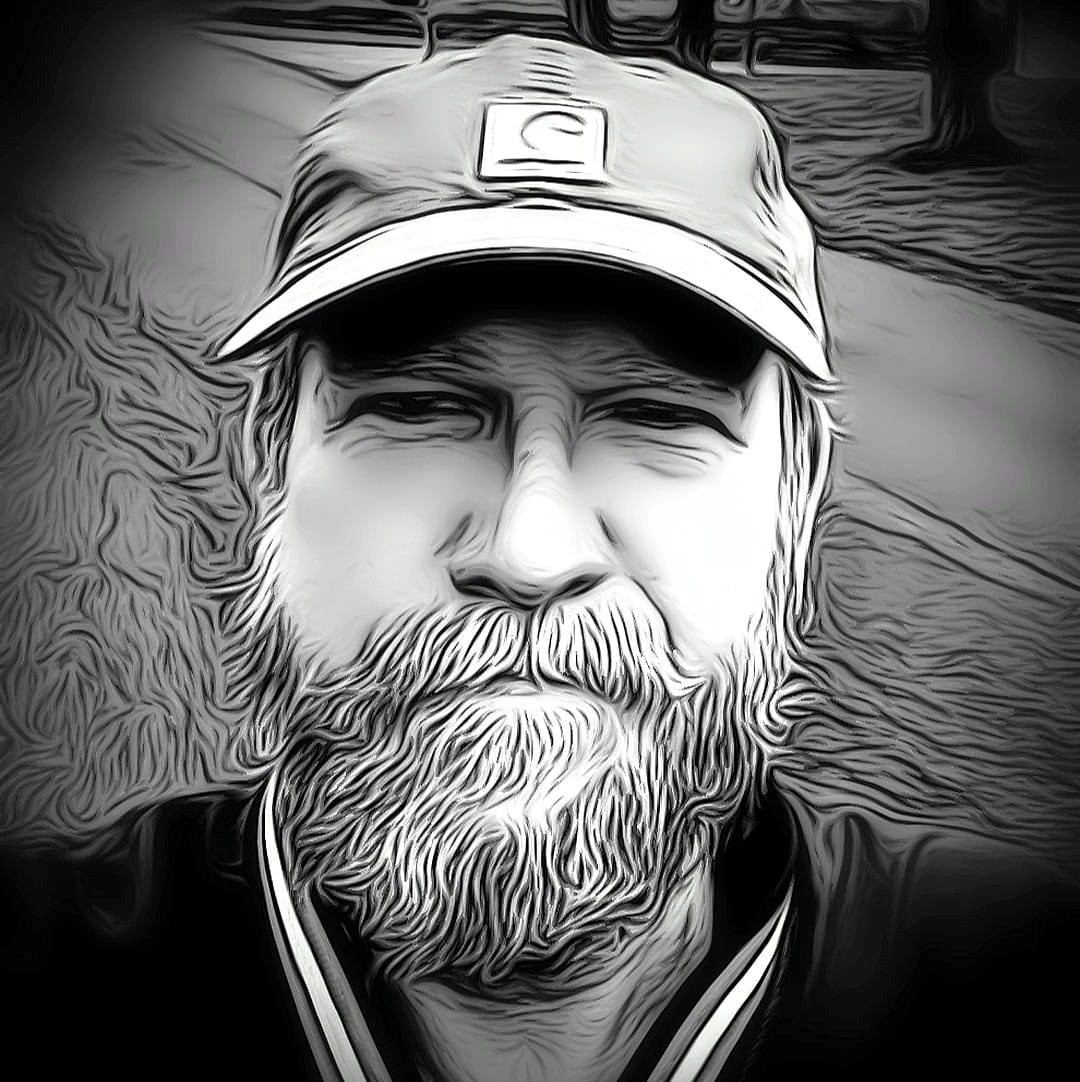 What an amazing class of inductees and special awards for 2023. A tremendous field of accomplishments and deserving recipients. I'd like to thank your board of directors for their efforts in working through the lengthy process to get from nomination to inductee. They work very hard on behalf of the Hall of Fame, and have fielded another phenomenal class you can all meet at the banquet on May 21st. Please make your reservations early to be guaranteed a seat for the event! I look forward to meeting our new members and guests as well as our outstanding past inductees in attendance and again, your remarkable board of directors, who will make your event one to remember. See you there!
Bill Lansley
President
NYSOHOF
---