New York State Outdoorsmen Hall of Fame Spring 2022 Newsletter

New York State Outdoorsmen Hall of Fame Honors Six
The New York State Outdoorsmen Hall of Fame announces that it will induct 6 new members at its annual banquet, April 30, 2022. These represent a wide variety of interests and accomplishments and include people from many areas of New York State.
Lindsay Agness -Monroe County
Lindsay gives back to folks in the outdoor sporting world by instructing beginner fly fishing, while representing local Trout Unlimited chapters. In 2007 she founded the Trout Unlimited Women's Beginner Fly Fishing Classes in New York State. These classes teach fly tying and fly casting, and all other essential skills. Many years these classes are so well attended that she runs multiple classes during the year. Since 2011 Lindsay has also held similar classes for Project Healing Waters Fly Fishing for local veterans, and partnering with Fort Drum. These classes attract nearly 20 participants per year. Other organizations that benefit from Lindsay's expertise are OASIS Adaptive Sports for wounded Veterans, Upstate New York Casting for Recovery, Catskill Fly Fishing Center and Museum and she also plants trees and stocks fish with her local Trout Unlimited chapter.
Debbie Brosen -Columbia County
Deb is a wildlife artist creating animal and scenery paintings on Turkey feathers. She has donated to numerous organizations over the last 30 years raising an estimated $50,000 for local gun and hunting clubs, National organizations and youth organizations such as the NYS 4-H shooting sports. Along the way, she has contributed monthly articles through the NYS Outdoor Magazine and has volunteered as a board member of the NYS Outdoor Writers Association for the past nine years. Her father once told her "You have a talent from God, and you need to share it with others". A motto she shares everyday with others while giving back in a BIG WAY!
Mike Elam -Orleans County
Since 1976 Mike has been a member of the Orleans County Federation of Sportsmen's Clubs, holding the title of Chair of the Fish committee, which he still holds today. In this capacity, Mike helped found the Oak Orchard Bassmaster's Club. Mike has served on the region 8 Fish and Wildlife since 2007, the NYS Conservation Council and Fish Committee for more than 10 years and served as president of the Finger Lakes Conservation Council for 9 years. In his spare time, Mike helps raise Walleye for his Federation, maintains Wood and mallard duck structures for the DEC, assists in banding ducks, geese and screech owls (for more than 20 years) and helps create and maintain trail systems and canoe boat launches.
John Hluchyj -Onondaga County
John has been a force in his local sporting world serving as board member and President for the Friends of Carpenter's Brook Fish Hatchery, for more than 14 years. He has been a volunteer fixture at every event that supports the County run hatchery. He organizes and volunteers at the annual Spring Family Fishing events that run weekly from April 1st through the end of May, the Time out to Fish program that runs throughout the summer and has served as a planning committee member for the annual Sportsmen's Days event every September showcasing the County Park, while introducing many first-time family members to their first outdoor sporting experiences. John officially documents all of these events through his photography skills and has created and maintains the volunteer organizations' website CNYTROUT.com. Additionally, John has written grants to provide equipment and information structures for the hatchery while keeping a personal low profile, but managing to provide excellent support to one of the few remaining county run hatcheries in New York State. And Finally, John helped found his federation's award-winning Women In Nature program, that for more than 12 years has provided instruction in many, many sporting activities to more than 1000 women and young ladies.
Mike Rosing -Chautauqua County
Mike joined the Chautauqua County Conservation Club in 1955 as a junior member. He immediately responded to a request to assist in banding waterfowl in the Dunkirk Harbor. The harbor is a waterfowl hot spot, due to warm water released from the Niagara Mohawk power plant nearby. In 1955 just over 1000 ducks were identified and banded, as growth in the program was not progressing, it stopped briefly for two years in the 1960's. With Mike's dedicated focus, he restarted the program and it flourished for the next 55 years. Along the way he developed trapping methods that improved the numbers of birds caught and since most of the catching and banding was done in the winter months, the work involved heading out into the harbor in some extremely challenging conditions. Detailed records were kept and forwarded to the NYS DEC and US Fish and Wildlife Service. This effort created a record of nearly 20,000 birds being identified and banded. Mike has also served for decades on numerous conservation clubs, organizations and commissions in his part of New York State, volunteered in the stocking of 'millions of walleyes' in Lake Erie.
Dr. Robert Vitkus, DDS –
Onondaga County
Dr. Vitkus was a member of the DeWitt Rod & Gun Club, Ruffed Grouse Society of Central New York and the Syracuse/Canadian Fish & Game Club. He often provided donations throughout his life directly to the Central New York Ruffed Grouse Society and the CNY Land Trust to support habitat improvement, sportsmanship, and enjoyment of the outdoors. When Dr. Vitkus passed away in 2020, his last will and testament left over 12 million dollars for community benefit that will last for decades into the future. The Dr. Robert J. Vitkus Fund will support outdoor parks and recreation areas with a preference for funding programs that involve youth, hunting and fishing or conservation efforts to improve wildlife habitat and forest health. A quote from the benefactor agency describes Dr. Vitkus' legacy perfectly as "While Bob will be missed by so many, his legacy lives on through his gracious financial support for the conservation of Central New York's land, promoting both sportsmanship and habitat development. He didn't just give us money, he gave us nature."
2022 Induction Banquet – Make Your Reservation Early
Every year the NYSOHOF holds an induction banquet to formally announce and celebrate new inductees to the Hall of Fame. This year, the banquet will be held on April 30, 2022 at Theodore's Restaurant formerly the Rusty Rail Restaurant, 3231 Seneca Turnpike (Rt. 5) in Canastota. Inductees will be presented with an induction plaque. The dinner is open to the public Family, friends and members of the NYSOHOF are invited to join in this evening of celebration.
Registration will begin at 5:00 pm, with dinner at 6:00 pm, followed by the presentations.
Reservations must be made by April 17 by contacting:
Scott Faulkner email: sfcf@tds.net or by phone: (315) 829-3588
There will be a very limited number of registrations available at the door, and some without reservations may be turned away. The cost of the dinner is $27 per person.
2022 Dues
Just a friendly reminder, if you have not already done so, please send in your membership dues for 2022. Membership dues are essential to continuation of the Hall of Fame. A copy of the membership dues form, along with a pre-addressed envelope is included in this mailing. Membership dues are only $20 annually.
Annual Raffle
Just a reminder, if you have not turned in your donation for our annual raffle, feel free to send your check along with your membership dues in the enclosed envelope.
The value of this year's raffle prizes are well over $3000.
Grand Prize: African 7-day Safari – Meals, Lodging, 3 Trophy fees included
1st Prize: Wayne-O's Guide Service Drift Boat Charter on Salmon River
2nd Prize: Capt. Burnie Haney – Full Day Lake Ontario Charter
3rd Prize: Capt. Mike Cusano – Half Day Oneida Lake Charter
4th Prize: $250 CNY Gunworks Gun Refinish Certificate
5th Prize: 120 Hand Tied Flies and LL Bean Fly Rod Combo Outfit
6th Prize: Great Gray Owl Print on Metal
7th Prize: $100 Taxidermy Certificate – Hirsch Taxidermy, N. Syracuse, NY
8th Prize: $100 Deer Processing Certificate – Marsh Mill Ranch
9th Prize: $100 Gift Certificate by Bass Pro Shops
With your support, we can continue to promote those who have "given back more than they have taken" in preserving our outdoor sports and conserving our environment for future generations. This year the winning tickets will be drawn at the annual banquet on April 30, 2022.
Your support is appreciated. Please contact us if you need more tickets.
NYSOHOF at New York Sportsmen's Expo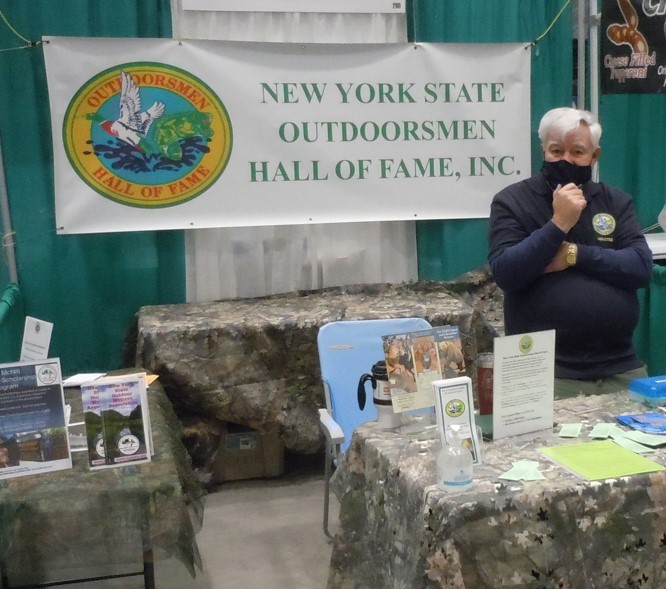 This past January, the NYSOHOF had a display table at the New York Sportsman's Expo at the New York State Fairgrounds. Several board members were able to come out and answer questions about our Hall of Fame and sell raffle tickets. It was a very rewarding experience. If there is an event where you would like to set up an exhibit about our Hall of Fame and promote our annual raffle, we would be happy to get some material and banners to you. Contact any of the board members for information.
Note from the President – Bill Lansley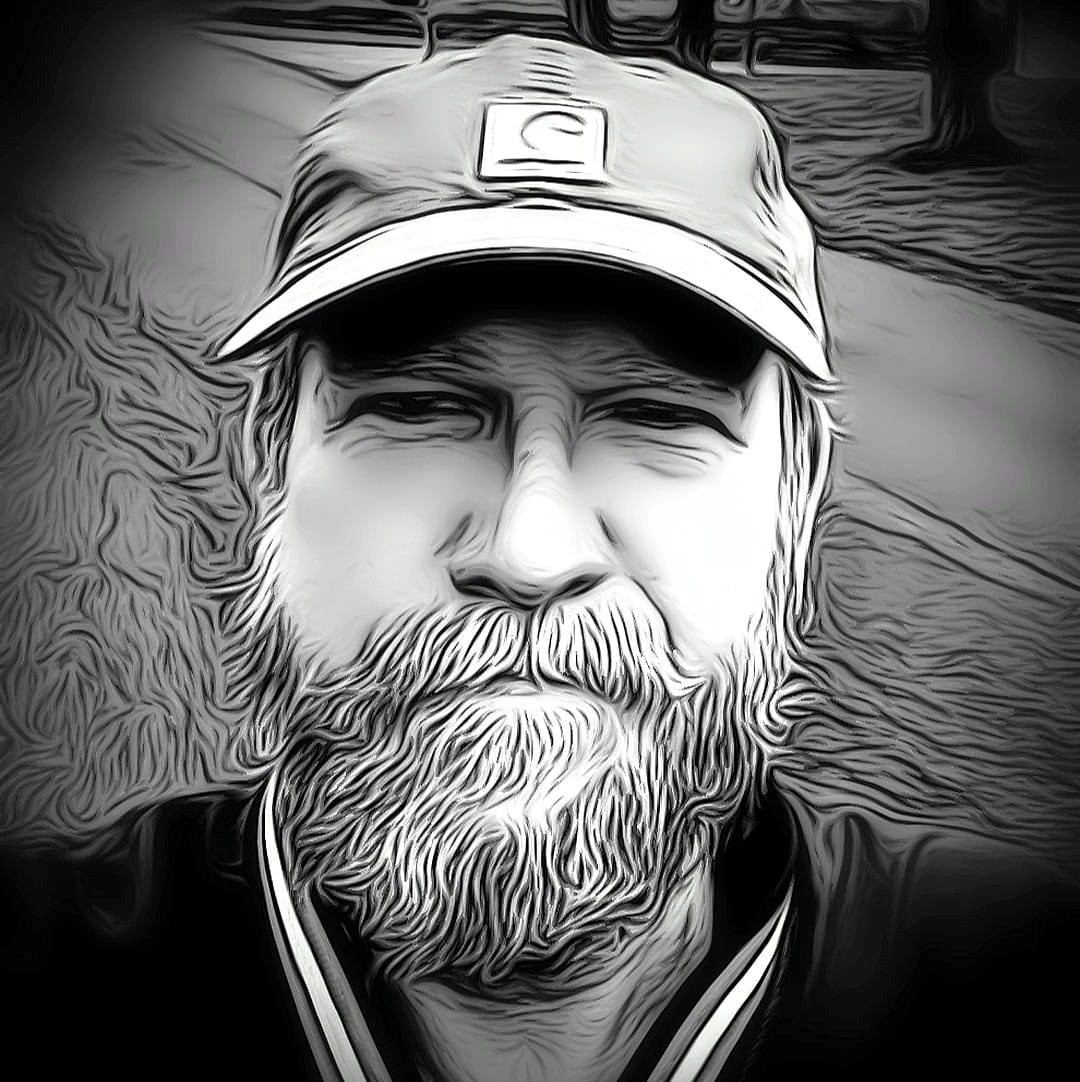 Welcome to Spring 2022! We've all endured a lot over the past few months and deserve to get out and have some fun!
Just a few short weeks from now we will be inducting our new class into the Hall of Fame.
This class brings some amazing credentials with many, many decades of giving back while securing today's youth a promising future. Please consider joining us for a wonderful event and meal at this year's banquet and help us pay honor to these remarkable people and their accomplishments.
With their induction comes a new season of seeking out the nominations for next year's class. We'll be looking for your nominations in the fall.
Thanks again for all of our member support and to the board of directors for their exemplary work for the Class of 2022!
-Bill
---