NYS Outdoor Writers' Assoc. Presents Award to Bob Kazmierski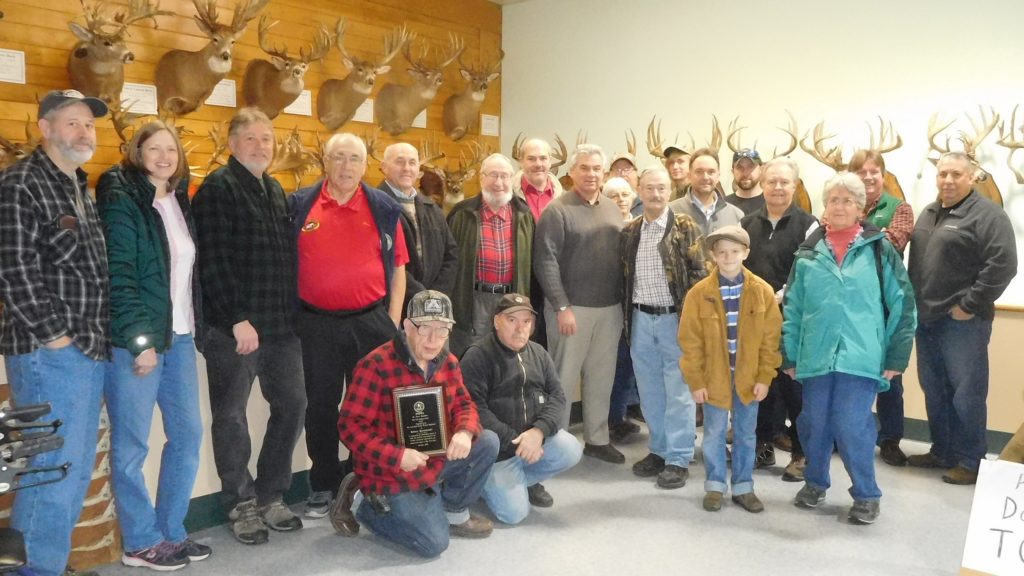 Bob Kazmierski receives NYSOWA's Keesler Award
In 2006 the NYS Outdoor Writers' Association (NYSOWA) created the "M. Paul Keesler New York Outdoor Citizen Award" in memory of one of its most beloved and active members. Paul Keesler, the deceased founder of the New York Sportsman magazine and author of several books, had spent five decades promoting and publicizing the outdoor resources and recreational opportunities of New York and championing conservation issues.
Each year NYSOWA recognizes an individual or organization who has raised the public's awareness of outdoor recreational opportunities and conservation issues in the state. This year the winner is Bob Kazmierski, the founder of the Sports and Wildlife Educational Museum in Vail Mills near Gloversville.
This museum is a non-profit education institution whose mission is to promote public understanding & appreciation of the outdoor sports traditions of hunting, fishing and trapping, and to preserve the art, artifacts and memorabilia associated with those traditions back to colonial times.
Bob started his own taxidermy studio (Bob's Taxidermy) in 1958. As he watched the interest of our younger generations in the outdoors wane, he really began to think about a venue that would also help teach our youth about the sports of hunting, fishing & trapping, and ultimately start to generate more interest in these sports.
Using his own retirement & personal savings, Bob pushed forward with the dream. Several years & several hundred thousand dollars later, the dream became a reality when the "Wildlife Sports & Educational Museum" officially opened in 2005. It is a world class museum which also features artifacts and inter-active exhibits which outline the history of hunting, fishing and trapping.
These exhibits are designed to also teach the younger generations and help foster a renewed interest in these sports. It is also the home of the NY State Outdoorsmen Hall of Fame. Bob himself is an inductee in the NY State Outdoorsmen Hall of Fame.
Through Bob's efforts, this Museum has effectively raised the public's awareness of outdoor recreational opportunities statewide and beyond, and fostered new interest of our younger generations in the outdoors. For more information see www.wildlifesportsmuseum.com or call 518-883-4933. NYSOWA representatives and many local sportsmen honored Kazmierski at a presentation of the award and remarks on December 28, 2020 at the Wildlife Museum in Vails Mills