Now accepting nominations for 2023 inductees
Get Started Here:
If you would like to nominate someone to NYSOHOF, please email sfcf@tds.net or nysohof@gmail.com and request the nomination form.
For reference, you'll be asked to provide the following information: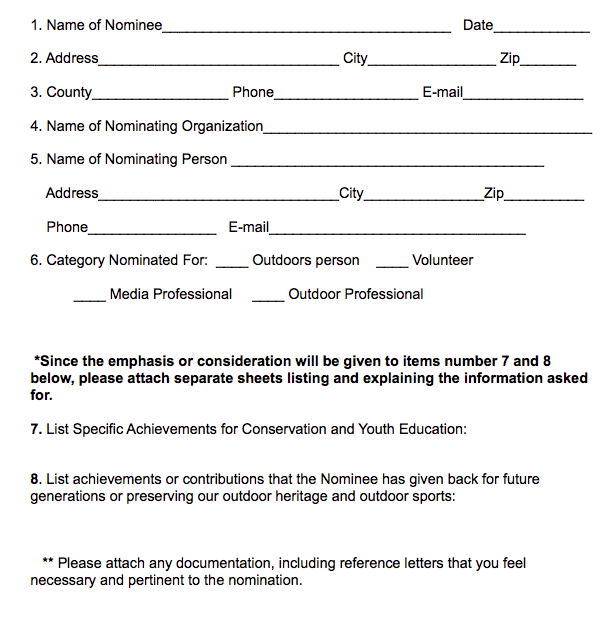 NYS Hall of Fame Nomination Explained
When the board reviews the nominations that were submitted, we need to know what the nominee has done that is significant enough to be inducted into the Hall of Fame. The board is made up of members from all around New York State.  Some may not know the person being nominated, so they rely solely on the supporting documentation submitted to make their decision.
Sometimes we get a nomination that says the nominee did allot for a long period of time. This gives us very little information to base our decision on.  As an example, a statement like the nominee has been the volunteer chairman of the Adirondack Park Council since 2007 says allot more.  A letter from someone on the council verifying that the nominee has served on the board and has attended meetings regularly also helps.  An internet printout showing something the nominee did while on the board also helps.  A project the person worked on with details about it - how significant was it, did it make a difference, did they give back (volunteer) is also important to submit.  A newspaper clipping showing something the person did can also be included.
In the end it comes down to - what did they do that was significant, when did they do it (exact date and time are not required), did they "give back?", did they make a difference and finally - it is up to you to prove it.  We need to see documentation to base our decision on.
Before you submit your nomination, please make sure you complete each of the items on this checklist.  Incomplete nominations will not be considered.
Complete the nomination cover sheet.
Make sure to include a list of specific achievements or contributions the nominee has done that would qualify him for induction
The scope of the achievements or contributions should be significant enough to be considered for induction.
Include detailed documentation supporting the specific achievements or contributions of giving back. This verification can be newspaper articles, printouts from the internet, pictures, letters or emails verifying specific activities.  (They should address the who, what, why, when and where of the activities.)
The nomination must clearly convey "It's not what you take, but what you give back."
Men and women are carefully selected for induction based on their significant contributions to preserve our outdoor heritage, enhance opportunity, or support the causes of conservation and outdoor sports. Selection for this distinguished group is not based on individual achievements, but rather what they have done for others.  This "giving back" sets our selection criteria far above other halls of fame.
When reviewing the nomination, board members from around New York State may not know the nominee or their "giving back" and must rely solely on the documentation in nomination.  The board must clearly see where the nominee gave back outside of "work" in order to select the person for induction.  Those not selected may be qualified to be inducted, but their part on giving back more than they took (volunteering) was not documented in the nomination submission.
The deadline for submitting the nomination is January 31.
Any member of the Board of Directors is more than happy to answer questions and even review any material you have for the nomination.
Tip on getting supporting documentation letters… When I consider submitting someone, I first list all of the achievements and activities the person has done that I feel qualify them for induction.  I then put together a letter/email with all of these and send it to people who can verify the activities. Their letter does not have to be long, but should be as specific as they can make it.  They can come from someone who served on a committee or board with them or someone who benefited from their activity (like a child or veteran they took hunting or fishing) …Remember, you cannot have too much supporting documentation – the more "qualified" information you submit the better.  You can even send them portions of the note above when you ask for their letters.